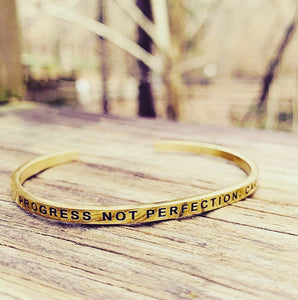 Super cute & classic
Good quality, very cute, and seller was incredibly responsive and helpful! Would definitely order from here again!
I love my Mantradamia bracelet. It's stylish and the mantra that is etched on it is a great reminder that life's challenges will not remain a challenge forever. Love this product!
Beautiful and inspiring!
It was all worth it to have my Mantra Cuffs shipped here to The Netherlands! They are soooooo beautiful and very inspiring! As I wear them, I read the mantras aloud and it really warms my heart. It's like they're reassuring me that everything will be ok!💕
Beautiful Bracelet
This was a beautiful bracelet easy to put on and remove, love the message it inspires. Excellent quality as well!
Awesome!
Bought this for my wife! Beautiful product with much attention to detail. You can see that there is a lot of passion behind this company. Also great support. Awesome!